A recent job we had in the workshop involved restoring a rather tired 18ct Gold Rolex Day-Date Automatic watch. This watch had certainly lived a life – the bracelet was extremely worn and stretched, and the movement had not seen a watchmaker for many, many years.

To tackle such a job we involved both our on-site jeweller and watchmaker. Our jeweller restored the 18ct gold bracelet, whereas our watchmaker serviced and repaired the intricate mechanism.
To restore such a worn bracelet took our jeweller many hours. Each link needed to be carefully broken down into its individual components, and the pins drilled out. He then needed to rebuild the bracelet – reforming some links and pinning every single link to ensure it is strong for many further years of continued wear and enjoyment.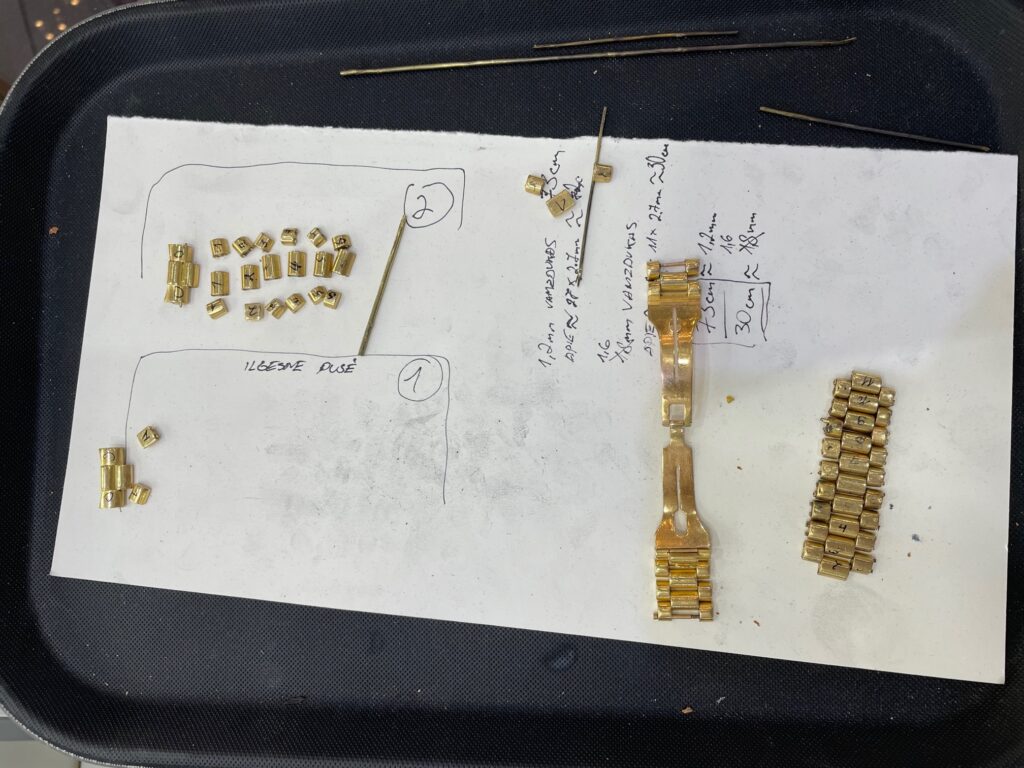 Our watchmaker found the movement to most certainly be in need of a thorough service. Pivots which should be clean and nicely oiled were found running dry, with residue of old oils and greases broken down and further interfering with the smooth running of the mechanism.
To rectify these issues the entire watch movement is stripped apart, before going through a full cleaning cycle in a specialist watch movement cleaning machine. The movement is then carefully reassembled, with oils and greases used in certain places to ensure optimal performance of the watch for a full service interval. A new mainspring was fitted during the reassembly process too.
On top of the work to the movement, this watch required a new glass and crown – these jobs were also tackled by our watch workshop. This model of Rolex uses a plexi-glass with a cyclops lens to magnify the date. We sourced and fitted a glass based on the Rolex model reference – this presses onto the case before being secured in place by the fluted bezel.
After all the work was completed, the watch undergoes rigorous testing for timekeeping. It is initially regulated by our watchmaker and checked in multiple positions to ensure it is performing as expected. It then is testing for automatic winding on our Elma Cyclomotion winding machine, as well as for power reserve and performance after 24 hours has elapsed.
If you have a Rolex Day-Date or similar model in need of repair, do get in contact with us. We are experts in the repair and restoration of almost any type of wrist and pocket watch. We hold a Feefo Platinum Trusted Service Award – testament to our many satisfied customers. Our fully insured, freepost repairs service is still operational during lockdown.
Yours sincerely
David Clark PJDip PJGemDip Cert GA
Managing Director
W.E. Clark & Son