A recent job in the workshop involved cleaning and refinishing the bracelet from a stunning Omega Constellation watch.
Omega are one of the most prominent watch companies in the world, with numerous inventions, innovations and awards to their name. Their iconic Speedmaster was the first watch worn on the moon and amongst other popular models including the De Ville and Seamaster, they make the very popular Constellation.
This particular Omega Constellation is crafted in 18ct gold. It's always a pleasure to refinish gold – you can achieve excellent results, with the correct tools and techniques of course.
Bracelet Before Restoration
The first step was to remove the bracelet from the case. We then proceeded to fully disassemble each side. This bracelet is held together by pins which we are able to remove using a bracelet pin adjusting tool. The tool allows the pin holder to remain perpendicular to the bracelet, this makes the process safe and avoids damage to the bracelet itself.

Once the bracelet is disassembled you can see the true extent of the cleanliness – it's remarkable how much grime can build up.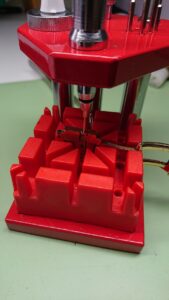 The refinishing process involved stages of polishing the high polish bars and giving a brushed finish to the larger link sections. This is all done using our Durston double polishing motor. For the high polish finish we use Menzerna M5 compound. This is a personal preference – alternatively we could use red Dialux and also achieve excellent results. As we're working on gold there's no need to use aggressive polishing mops and compounds – we want to maintain the shape of the bars and as there are no major scratches it's better to be conservative.
Once the refinishing of each bracelet part is complete, they were given an ultrasonic clean. Each part was then steam cleaned to ensure everything was spotless before reassembly.

Steam Cleaning
Reassembling the bracelet is a matter of matching up the correct size pins, bars and link sections to maintain the graduated profile of the bracelet. The pins are hammered into place using a watchmakers hammer with a plastic end. This prevents any damage being caused to the bracelet. Once fully reassembled, the results are truly stunning.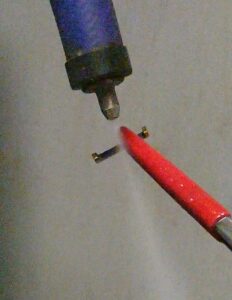 Finished Bracelet
Do you have an Omega watch in need of repair? Get in contact with us to see how we can help. We are able to repair almost any Omega watch and we offer a comprehensive watch repair service. We cater to clients all around the UK thanks to our fully insured freepost watch repairs service. You can also bring watches in to our showrooms based in Lewes and Uckfield, Sussex. As Business Partners of the British Horological Institute and a Feefo Platinum Trusted Service Award accredited business, you can be confident when dealing with us.

Yours sincerely
David Clark PJDip PJGemDip CertGA
Managing Director
W.E. Clark & Son Limited