Omega De Ville Quartz Movement Service
Our fully equipped watch repair workshop allows us to repair a huge range of types and styles of watch. From full servicing right the way through to smaller repairs, such as crown and stem replacement, glass replacement and movement exchanges. In this blog post we'll look at a quartz movement service on an Omega De Ville watch.
Firstly we should clarify the difference between movement exchanges and servicing, as many watch repair workshops do not differentiate to the customer, even though the work involved is significantly different. Some quartz watches can, like mechanical watches, be serviced. In other words they are designed to be taken apart and repaired. If you have a big name brand like this Omega, your watch will have a movement which can be serviced. Servicing involves complete disassembly of the movement, cleaning, reassembly, oiling and testing. It's quite an involved process.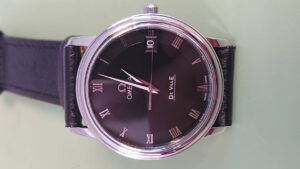 In contrast a movement exchange involves swapping over the complete watch movement like-for-like with a brand new one. The dial and hands are switched over to the new movement. This can sometimes be more cost effective even if it is possible to service the existing movement, though with high quality quartz movements this is absolutely not the case. In other instances the movement fitted by the manufacturer is not even designed to be repaired, so we have no choice but to fit a complete replacement.
In this instance we have a lovely quality Omega De Ville with a serviceable quartz movement. The service is done in a similar fashion to with a mechanical watch. The watch movement is disassembled, cleaned, reassembled, oiled and tested. The oils used are slightly different, though many of the core principles of servicing remain the same, such as the need for absolute cleanliness. It is perhaps even more important in a quartz watch, as it takes very little to stop a quartz watch from working. After the movement is reassembled, we test it using our Elma Watch Master testing machine. These machines are able to test the power consumption of the movement and allow us to confirm the movement is operating within the manufacturer specified parameters.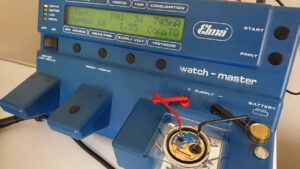 Interestingly this particular movement had an unusual fault – the magnetic rotor (which forms part of the motor) had broken into two pieces. We were able to order a replacement and this was fitted during the repair.
After the service is complete the watch can be fully reassembled – pairing the movement with the dial, hands and freshly cleaned watch case. Another job well done!
Do you have an Omega watch in need of repair? Get in contact with us to see how we can help. We are able to repair many different Omega models and we offer a comprehensive repairs service. We cater to clients all around the UK thanks to our fully insured freepost watch repairs service. As holder of a Feefo Platinum Trusted Service Award and Business Partners of the British Horological Institute you can be confident when dealing with us.