The International Watch Company or IWC produce high-quality, luxury watches. While perhaps not as well known as brands like Rolex and Omega, IWC are top quality timepieces and we see many in our workshop – from vintage models passed down as family heirlooms, through to daily wear watches including models like the Portugieser and Portofino.
This IWC watch is one we've sourced to go in our collection of pre-owned watches. We have an extensive range of pre-owned watches for sale – including brands like Tag Heuer, Omega and Rolex. You can see the range on our website.
To prepare the watch for sale it is given a thorough clean and service. During a service the watch is completely taken apart, cleaned, reassembled, oiled, adjusted and tested. Also the case is given a light polish as well as an ultrasonic clean. This way you can be confident the timepiece you're purchasing from us is in excellent working order.
In terms of maintenance for mechanical watches like this, We recommend watches are serviced every 4-5 years. This is to ensure optimal performance of the movement (as the oils and greases needed to keep the movement running properly need to be kept fresh) and to allow the movement to be checked for signs of wear and tear.
Once the service and work to the case are complete, we reassemble the watch. From this point we check the timekeeping before keeping the watch on test to ensure it performs within our acceptable tolerances for a vintage timepiece.
We are sure you'll agree, it's a fantastic looking watch and a great addition to our pre-owned range!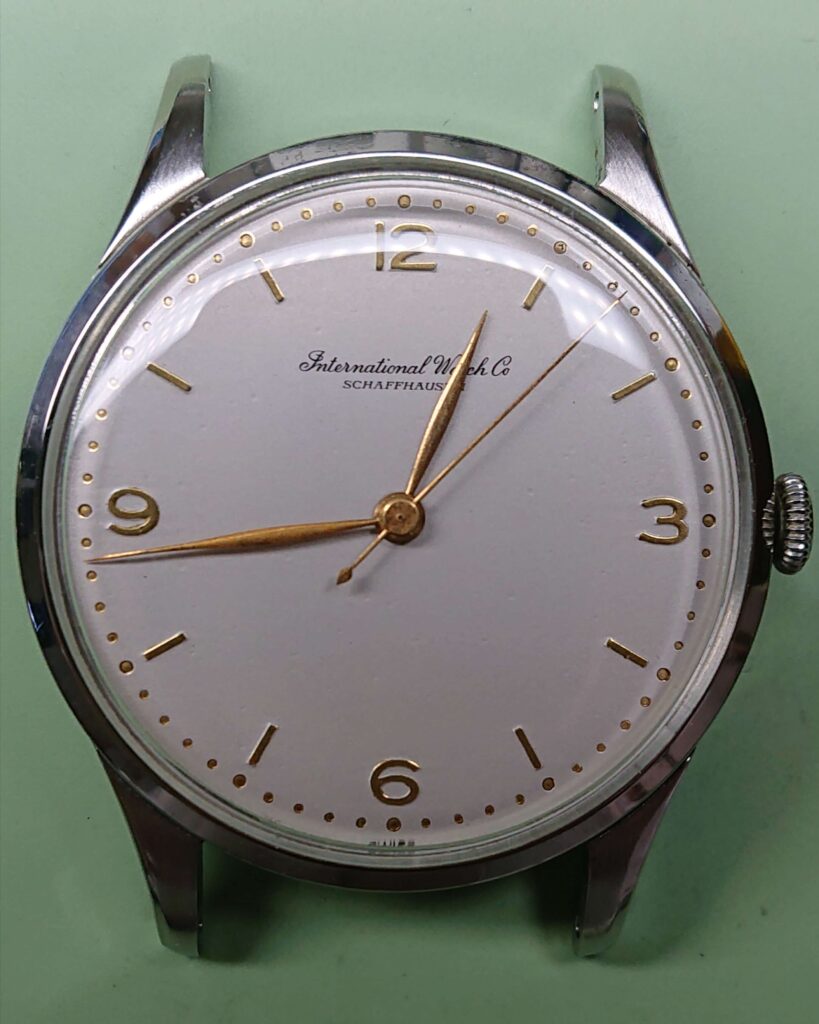 Do you have a IWC watch in need of repair? Get in contact with us to see how we can help. We are able to repair many IWC watches and we offer a comprehensive watch repair service. We cater to clients all around the UK thanks to our fully insured freepost watch repairs service. You can also bring watches in to our showrooms based in Lewes and Uckfield, Sussex. As Business Partners of the British Horological Institute and a Feefo Platinum Trusted Service Award accredited business, you can be confident when dealing with us.
We look forward to speaking with you soon
Yours sincerely
David Clark PJDip PJGemDip CertGA
Managing Director
W.E. Clark & Son Limited.