Rolex Oyster Perpetual Date servicing and refinishing
A recent job in the workshop involved servicing and refinishing the case and bracelet of a Rolex Oyster Perpetual Date.
Rolex are arguably the biggest name in the world of watches, with numerous inventions, innovations and awards to their name. Their range of watches includes some truly iconic models including the Datejust, Submariner, Air King and Day-Date.
This particular Rolex is a Date model and uses a Rolex calibre 3135 automatic movement. These movements are excellent quality. They are certified chronometers, so fantastic timekeepers, and they are very reliable.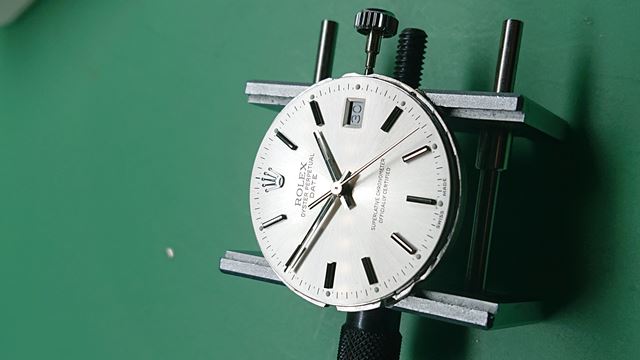 Rolex calibre 3135 movement
To service the movement, it is completely stripped apart, before going through a full cleaning cycle in a specialist watch movement cleaning machine. The movement is then carefully reassembled, with oils and greases used in certain places to ensure optimal performance of the watch for a full-service interval. A new mainspring was fitted during the reassembly process too.
On top of the work to the movement we refinished the case and bracelet.
The refinishing process involved stages of polishing each element of the case using a few different techniques. This is all done using our Durston double polishing motor and a variety of mops and compounds.
Once the refinishing of each part of the case is complete, they are given a final ultrasonic clean. Each part is then steam cleaned to ensure everything is spotless before reassembly.
Reassembling the case is a matter of initially refitting the case tube and glass, before then fitting the friction fit bezel. Once this is done the movement can be re-installed into the case, before the case back is fitted.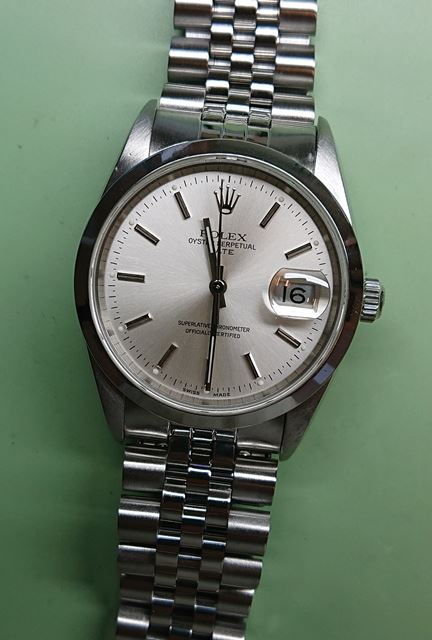 The finished fully restored Rolex watch
After all the work was completed, the watch undergoes rigorous testing for timekeeping. It is initially regulated by our watchmaker and checked in multiple positions to ensure it is performing as expected. It then is testing for automatic winding on our Elma Cyclomotion winding machine, as well as for power reserve and performance after 24 hours has elapsed.
Please Contact Us for further information regarding any requirement you may have.
Yours sincerely
David Clark DGA PJDip PJGemDip CertGA
Managing Director
W.E. Clark & Son Limited
Do you have a Rolex watch in need of repair? Get in contact with us to see how we can help. We are able to repair almost any Rolex watch and we offer a comprehensive watch repair service. We cater to clients all around the UK thanks to our fully insured freepost watch repairs service. You can also bring watches in to our showrooms based in Lewes and Uckfield, Sussex. As Business Partners of the British Horological Institute and a Feefo Platinum Trusted Service Award accredited business, you can be confident when dealing with us.