At W.E. Clark we love nothing more than to delight our customers with our exceptional watch repair service. We recently had the pleasure of refurbishing a vintage Tudor watch and bringing it back to full working order. It was a lengthy restoration, but our customer was absolutely delighted with the results.
We were approached by the customer via our website, who was interested in our postal repair service. We duly sent our FREEPOST package with instructions on how to package the watch to the customer and we patiently waited for the timepiece – a vintage Tudor watch – to arrive.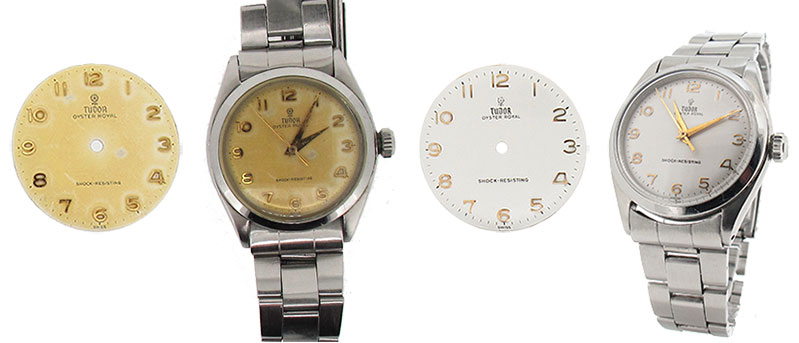 Our Master Watchmaker gave the vintage Tudor timepiece a thorough and detailed examination before contacting the customer by telephone to go through the estimate. This is something we always do before we commence any repair work.
We explained exactly what work was required, which included a full service. Our Master Watchmaker had no doubts that he would be able to restore the vintage timepiece to its former beauty, and re-instate its precise timekeeping. The client was happy to proceed with the work and was pleased that the timepiece could be brought back to full working order.
Our Master Watchmaker carefully and painstakingly dismantled the watch. The dial needed significant restoration and was sent to the dial restorer. Meanwhile, our Master Watchmaker serviced the movement and replaced the glass. Once the dial restoration was complete, the vintage timepiece was put back together with the expertise of our fine Master Watchmaker.
Finally, we tested the watch on our time keeping machine to ensure the precision timekeeping you would expect form a Tudor timepiece was being maintained. As expected our Master Watchmaker's expertise proved yet another triumph with the vintage Tudor watch back to keeping perfect time.
Our customer was absolutely delighted with our work. It was an in-depth restoration of a sentimental watch. Although a lengthy repair, our customer couldn't have been happier. It was well worth the wait.