In order for a watch movement to work properly it requires periodic cleaning and lubrication. This is due to the design of the mechanism – lubrication is needed on moving parts to reduce the friction which may lead to them wearing out. Even quartz watches still rely on oils and greases to operate as they should. The more complications your watch has, the more points in the movement which will require some form of oil or grease.
Of course as each movement is different the types and quantities of oils and greases will change. There are some notable movements which require, at least in theory, less regular servicing, such as movements using the co-axial escapement. Nowadays we even have pioneering horologists like Dr Roger Smith involved in research into nanotechnology which may eventually eliminate the need for oils entirely.
There is a huge range of oils and greases available on the market. Each watchmaker will have their own personal preferences on this front and it's very rare to get two watchmakers to agree. Factors such as the age of the watchmaker and where they trained may in turn influence their choice of oils. There are still a few broad categories we can split the lubricants into.
For metal to metal we use some form of grease. There are various different types on the market and the exact type we use depends on the situation. When servicing a 7750 chronograph for example, we use a grease called Molykote DX on the chronograph work.
For low speed high torque applications we use a thicker oil. Our preference here is Moebius HP-1300 – this is often specified on the technical documents of many moder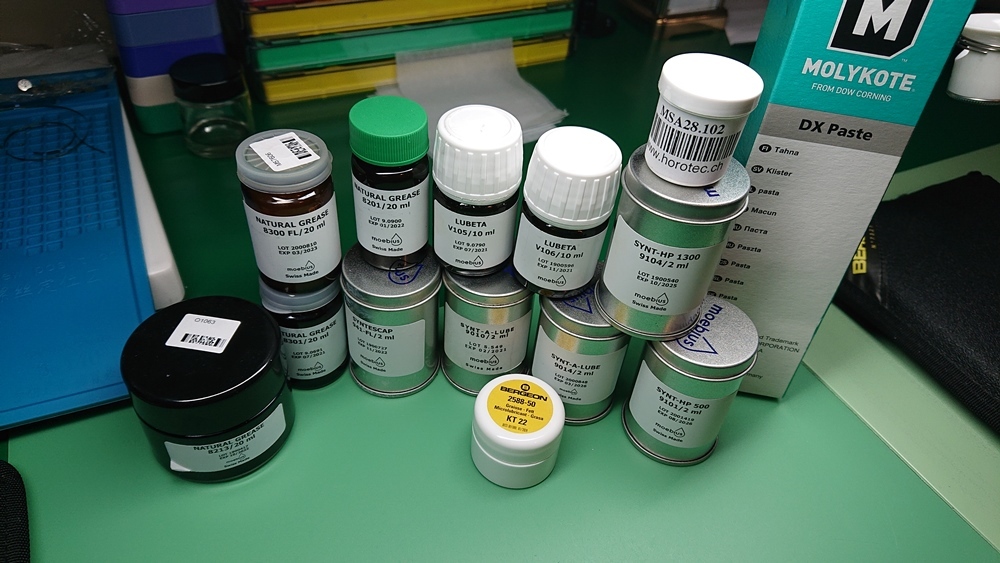 n watch calibres.
For high speed low torque applications we use a thinner oil. The industry standard here is Moebius 9010. Examples of where we use this oil include the pivots of the escape wheel and when oiling the end stones of the balance.
On top of these "basic" lubricants there are many others for very specific areas of the watch movement. Sometimes these can be incredibly expensive – a pot of only a few millilitres may cost upwards of £70 for some of these! Specialist lubricants include P125 which is a braking grease used on the barrel walls of automatic watches. This lubricant is specified by many big manufacturers. Others include Moebius 941 and 9415 which are only used to oil the teeth of the escape wheel.
There are many other forms of lubrication and treatments used when servicing a watch movement – V105 f

or reversing wheels, V106 for rotor bearings – the list really does go on. We haven't even discussed epilame – a fantastic surface treatment which prevents oils from spreading. Suffice to say, oils and greases in watchmaking is a huge topic. We follow manufacturers technical documentation where we can and for vintage pieces we adhere to industry standard best practices.
Do you have a watch in need of servicing? If so, do get in contact to see how we can help. We are able to repair almost any watch and we offer a comprehensive watch repair service. We cater to clients all around the UK thanks to our fully insured freepost watch repairs service. As Business Partners of the British Horological Institute and a Feefo Platinum Trusted Service Award accredited business, you can be confident when dealing with us.
We look forward to assisting you very soon
Yours sincerely
David Clark PJGemDip PJDip CertGA
Managing Director