We are skilled in the repair and restoration of a whole range of different types of watch – both modern and vintage. One area we specialise in is the restoration and repair of vintage pocket watches. They may be collectors' items or family heirlooms – each watch will undoubtedly have a fascinating history and often significant age behind it. Given this, it's unsurprising the repair and restoration of such pieces is so specialist. These timepieces need very specific care and attention, with the need to preserve the originality and history of real importance.
We recently completed a major repair and restoration to a client's vintage Waltham hunter pocket watch. This watch arrived in a truly sorry condition. Faults included missing the glass and minute hand, a loose bezel, the gold plating was completely worn away and the watch had completely stopped working. As you can see from the images, the contrast between before and after is truly phenomenal.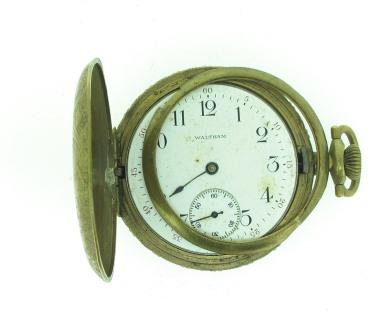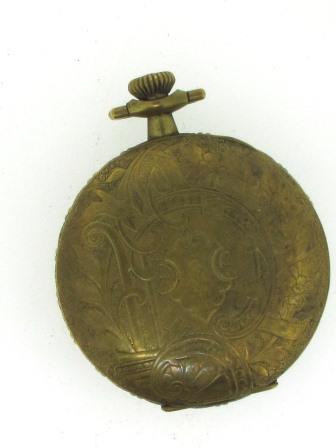 The timepiece before the full restoration.
The movement was completely disassembled, thoroughly cleaned, adjusted, reassembled and oiled, restoring it to excellent working order. We carry a healthy stock of vintage pocket watch hands, so we were able to find a minute hand to match the blued steel hour hand. Likewise, we carry a stock of new old stock vintage pocket watch glasses. The profile and sizes of these glasses is unusual, so you need the correct type to fit. We were able to find a size match in our stock.
Perhaps the most notable visual change is the colour of the case. We were able to re-plate the case, to restore its original gold-plated finish. This change combined with everything listed above and a clean of the dial has produced a simply stunning end result.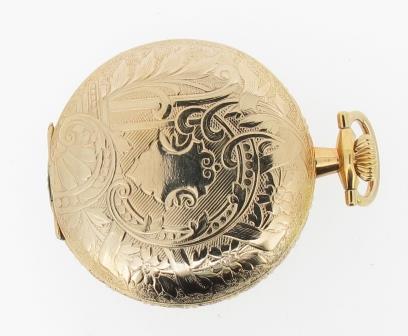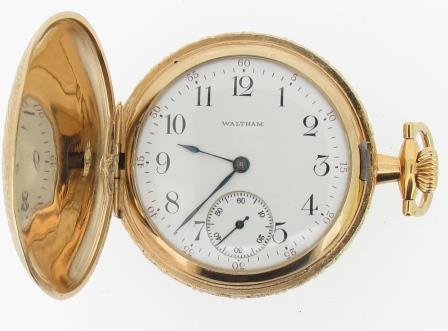 The amazing final result after the full restoration.
Repairing and restoring pocket watches like these is a real skill. Simply due to the age of the watches there are often many more worn parts than with a modern timepiece. On top of this parts can be scarce, so it may be necessary to make parts to replace anything which is worn. During the restoration of such pieces, we are always sympathetic to the nature of the timepiece and appreciate the history behind it. We help guide our clients on the best way to restore such pieces without losing the original character. 
We are sure you'll agree, the results in this instance are remarkable. Our client was thrilled with the outcome and this pocket watch is ready for many more years of reliable service. 
Do you have a pocket watch in need of repair? If so, get in touch and see how we can help. We are one of few watchmakers in the UK with the specialist skills needed to restore these timepieces. We offer a fully insured freepost watch repairs service and we serve clients all around the UK As holders of a Feefo Platinum Trusted Service Award and business partners of the British Horological Institute you can be confident in the service we provide.
Yours sincerely
David Clark DGA PJDip PJGemDip CertGA
Managing Director
W.E. Clark & Son Limited.