Omega Watch Repair & Service
Complete the form below to be sent your insured (up to £20,000) FREEPOST Watch Repair Envelope.
Your timepiece is FULLY INSURED (upto £20,000) by us when using our Freepost Repair Service. All work is fully guaranteed for 1 year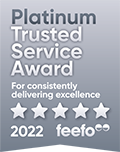 The beauty of Omega timepieces is in their precision engineering and fine appearance. They are designed and built to last a lifetime or more. However, like any other high-precision instrument, a watch needs regular servicing to maintain perfect functionality. To ensure your Omega watch gives you years of outstanding time performance it should be serviced regularly to maintain its reliability and appearance.
Omega are one of the most popular watch brands on the market. The Speedmaster collection features one of the most iconic Omega watches, the Moonwatch, which is famously known for being the first watch worn on the moon. Whether you have a vintage Omega Speedmaster, a Seamaster, a De Ville wristwatch, or a contemporary Globemaster, our Master Watchmaker is an expert in the repair and maintenance of any exquisite Omega timepiece.
Omega watch repairs, refurbishment, service and restoration
Our in-house Master Watchmaker offers extraordinary expertise in the service and repair of modern and vintage Omega timepieces. Every Omega watch that comes into our workshop for repair is serviced to the same exacting standards. The skills required to carefully repair and restore your Omega timepiece are only found in the very best Master Watchmakers, and we are proud to say our Master Watchmaker has carried out complex repairs where others have failed.
Our qualified Master Watchmaker uses both modern and more traditional equipment to restore the condition of your Omega timepiece. Your Omega watch is carefully dismantled by hand and any worn or defective parts are replaced. Every minuscule piece of your Omega watch is handled carefully. All repairs are carried out with the utmost sensitivity to bring your vintage Omega watch back to factory condition.
Once we receive your Omega watch, our Master Watchmaker will carefully and thoroughly examine the timepiece to establish the cost of any repairs. We will always report estimated costs back to you before we commence any work. It may be that replacement parts are required to be sourced, or even made by us to bring your Omega timepiece back to working order. Whatever is required, we are confident we can bring your watch back to the precision engineered timekeeping and condition your vintage Omega watch began its life with.
We are one of the few jewellers in the UK to have our very own Master Watchmaker, and we are one of an exclusive few businesses that are able to assist with Omega watch repairs, including full servicing or restoration. W.E. Clark are an award-winning business, voted regional Independent Retailer of the Year 2017. We are confident you will be truly amazed by the quality of our service and our workmanship.
Independent Omega watch servicing
Battery replacement, resealing and pressure testing
Dial restoration and repair, including re-luming
Bracelet and strap repair or replacement
Full service
Restoration of the case, including repolishing and refinishing
Glass replacement- mineral, sapphire or acrylic
Modern and vintage Omega watch repair
Our guarantee
We will take care of your Omega watch from start to finish, and carry out repairs and restoration work with the utmost sensitivity and expertise. We are absolutely confident you will be delighted with the results, but for peace of mind we offer a minimum 12 month guarantee for all work undertaken.
Our fully insured FREEPOST service
You can ship your timepiece to us from anywhere in the UK using our Royal Mail Special Delivery FREEPOST service. Your Omega watch is insured for up to £20,000 throughout its postal journey. That is from the moment the package leaves your hand to when it is posted back to you. When we receive your Omega watch we will discuss any work required and the costs before we carry out the repairs.
We would love to repair any Omega watch from around the world. Outside of the UK you will have to organise shipping, other than that you can expect the same exceptional repair service.
Watches we repair include: