A recent restoration project for one of our clients involved fully servicing an IWC Mark XV automatic watch. These models are very desirable – great looking military style watches, with excellent quality movements.
IWC was founded in 1868 – so over 150 years ago. The company is well known for producing military/aviation style watches, just like the Mark XV.
On arrival in the workshop this watch was not working properly and failing to keep time. Inspection of the movement revealed a lot of dried-up oil and debris in the movement, so a full service and a new mainspring was required.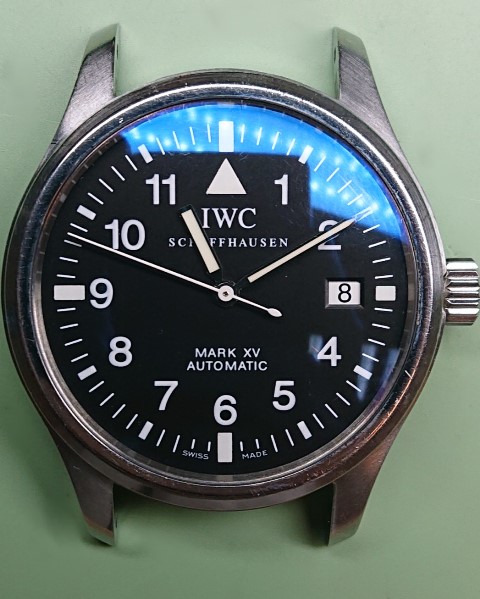 During a full service we completely disassemble the movement, carefully inspecting each component and pre-cleaning in sections as we go. We then run the disassembled movement through our specialist watch movement cleaning machine. We also run the case through a separate ultrasonic cleaner. After cleaning, the movement is carefully reassembled and oiled, before being adjusted and tested.
The movement powering this IWC Mark XV is an IWC calibre 30110, which is based on the ETA 2892-A2 but enhanced by IWC in-house. The 2892-A2 is a good quality automatic movement, which runs at 28,800 beats per hour and has 21 jewels. These movements as standard come in various levels of finish – this IWC version is very nicely decorated and after a full service it is working very nicely indeed.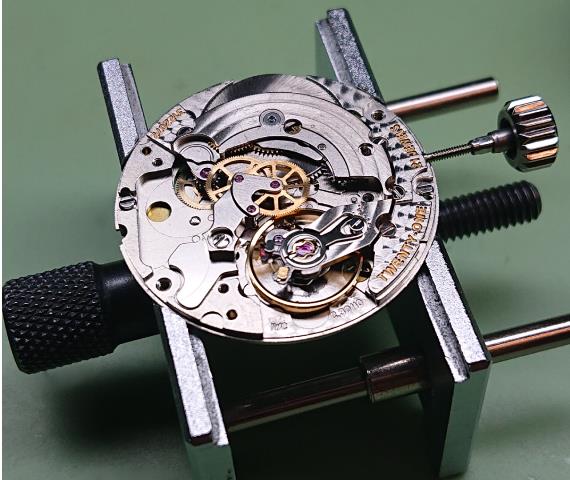 After work is complete our testing procedure involves testing the watch on an automatic watch winding machine as well as testing under manual winding only. We ensure the watch is tested across a range of positions to confirm it is working as expected and within tolerances.
As you may have guessed by now, the quoted number of jewels quite literally refers to how many of these jewels are present in the movement. Just because a watch has a higher number of jewels does not necessarily mean it's a better movement though. A mechanical watch will have less need for additional jewels than an automatic watch, as there are fewer moving parts. There was also a historic trend whereby watch manufacturers attempted to out-do each other by adding more and more jewels to their movements, purely as a sales technique. This relied on the ignorance of the consumer and their belief that "more must be better". As a result, we ended up with jewels in all sorts of places where they have absolutely no purpose. The 100 jewel Orient Grand Prix is a good example of this – it has jewels fitted almost everywhere!
Do you have a mechanical watch in need of repair? Here at WE Clark Watch Repairs we are experts in the repair of all makes and models of watch – from vintage pocket watches through to modern big name brands like Tag Heuer, Omega and Rolex. We offer a fully insured freepost watch repairs service to clients all around the UK. As holders of a Feefo Platinum Trusted Service Award and business partners of the British Horological Institute you can be confident in the service we provide.
Please Contact Us for further information regarding any requirement you may have.
Yours sincerely
David Clark DGA PJDip PJGemDip CertGA
Managing Director
W.E. Clark & Son Limited