In a mechanical watch or clock, the escapement is the mechanical linkage which allows the gear train to be periodically released. Controlling this release means we are able to adjust how watches or clocks keep time. There are numerous different types of escapement, though the most common one found in mechanical watches is the Swiss lever escapement.
Very simply – The Swiss lever escapement operates by using pallets (small specially shaped jewels), which control the release of power from the escape wheel (which is part of the train of wheels transmitting power through the movement from the mainspring in it's barrel). During this process the escape wheel tooth gives impulse to the pallet, and this impulse is used to continue powering the escapement via transfer to the balance.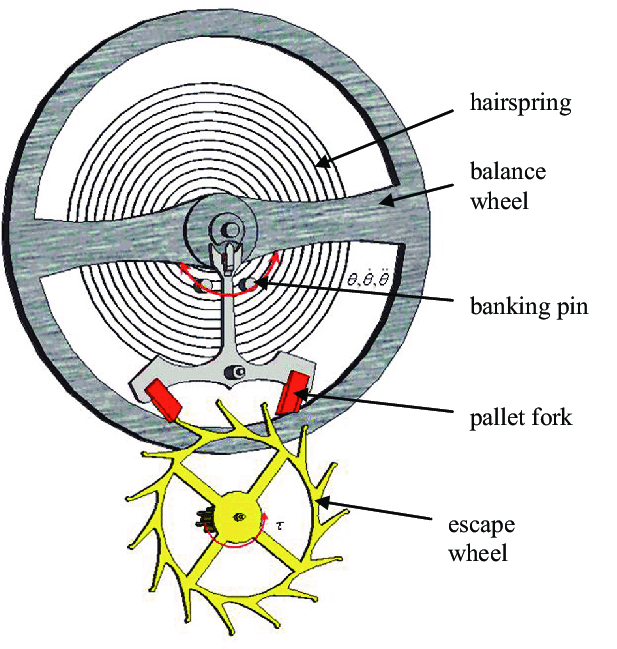 During the interaction of the escape wheel tooth with the pallets, they are locked, unlocked, provide impulse, released – the escape wheel then moves – and then another tooth is locked on the opposite pallet.
The Swiss lever escapement even has safety features. These protect the running of the escapement in case of an impact which would otherwise cause overbanking. Overbanking is in effect when the correct sequence of the escapement gets messed up – It will completely stop the movement if this happens, so it's important to prevent it.
Does this sound confusing? It can be a difficult subject to break down, as there's a lot of subject specific terminology and it's much more complex than outlined above. You could write an entire book on the subject – suffice to say the design is absolutely ingenious.
There are numerous other watch escapements too, such as cylinders, english lever and verge. Each escapement has it's own specific geometry and quirks which must be understood in order to correctly set it up.
You'd hardly believe there's so much to the simple ticking sound when you hold a mechanical watch to your ear.
Do you have a mechanical watch in need of repair? Here at WE Clark Watch Repairs we are experts in the repair of all makes and models of watch – from vintage pocket watches through to modern big name brands like Tag Heuer, Omega and Rolex. We offer a fully insured freepost watch repairs service to clients all around the UK. As holders of a Feefo Platinum Trusted Service Award and business partners of the British Horological Institute you can be confident in the service we provide.
Please Contact Us for further information regarding any requirement you may have.
Yours sincerely
David Clark DGA PJDip PJGemDip CertGA
Managing Director
W.E. Clark & Son Limited