In watchmaking we use a number of different types of pivot, depending on the situation. The pivots are the end part of a wheel's arbor – so the part which holds it in place in the bearing as it rotates. In this blog post we'll briefly look at the different types of pivot commonly found in watch movements, as well as their strengths and weaknesses.
The straight or square pivot is the most commonly found in the train – so the wheels used to convey power from the mainspring through to the escapement. These pivots have – as the name suggests – straight sides, with a squared off shoulder. Straight pivots provide good strength though the friction across both horizontal and vertical positions is fairly high, due to the larger surface area in contact with the jewelled bearing.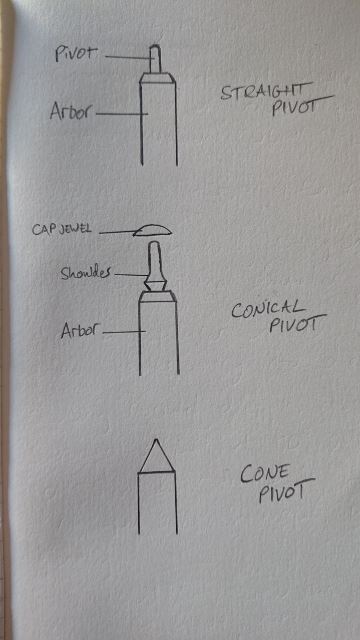 Watch pivot diagrams
A Conical pivot is commonly found on a watch balance. These pivots are paired with an olive shaped jewel and a cap jewel. The conical pivot is indeed somewhat conical in shape and it has a domed end. Due to the shape of these pivots and the respective jewels they act in, friction is reduced to an absolute minimum across both vertical and horizontal positions. The trade-off is that the pivots are weaker, hence they are found operating in shock-resistant settings, such as Incabloc and Kif.
You can also find Cone shaped pivots. These tend to be found in lower grade pocket watches (and indeed small clocks). They are used instead of conical pivots as they are easier to make. The pivots turn in cups which are made into the end of a screw. Over a number of years this type of pivot wears out – and as it does so, the area of contact at the end of the pivot increases, which increases friction and causes even more wear. The timepiece will eventually stop in certain positions as a result.
Problems with pivots can occur in a variety of different ways – the watchmaker must always be aware of possible issues with pivots which need addressing. A pivot may become "necked" for example – this is where a section of the pivot is worn into a smaller diameter than the rest of the pivot. Reducing the diameter by only a small amount causes a significant reduction in strength.
Other issues found may include short pivots. bent pivots and, of course, worn pivots. In modern watches if we find a pivot problem, the correct repair is to replace the defective part. With older watches where parts are no longer available, we may need to burnish the existing pivot to resurface and toughen it, so it can be used once more.
Do you have a watch in need of repair? If so, get in touch and see how we can help. We are watch repair specialists with a fully insured freepost watch repairs service.  We offer repairs to clients all around the UK and we are experts in the repair of modern and vintage watches. As holders of a Feefo Platinum Trusted Service Award and business partners of the British Horological Institute you can be confident in the service we provide.
Please Contact Us for further information regarding any requirement you may have.
Yours sincerely
David Clark DGA PJDip PJGemDip CertGA
Managing Director
W.E. Clark & Son Limited