We deal with a huge variety of watches in our workshop, ranging from modern Omega and Rolex through to vintage wrist and pocket watches. Vintage watches often need extra special care and attention, especially if the watch in question has not been regularly serviced over the years.
In this particular instance we received a vintage Moeris watch in for servicing and repair. Moeris are a quality Swiss manufacturer, with a history dating back to the late 19th century. Inspection of the movement revealed dried up oils and greases, alongside some wear around the centre wheel. A full service and mainspring, alongside work to correct the wear was required.
The movement is completely disassembled and pre-cleaned, with each part inspected. The disassembled movement is then run through our specialist watch movement cleaning machine, while the case was cleaned in an ultrasonic cleaner. After an initial clean, corrective works were conducted to fix the issue with the centre wheel.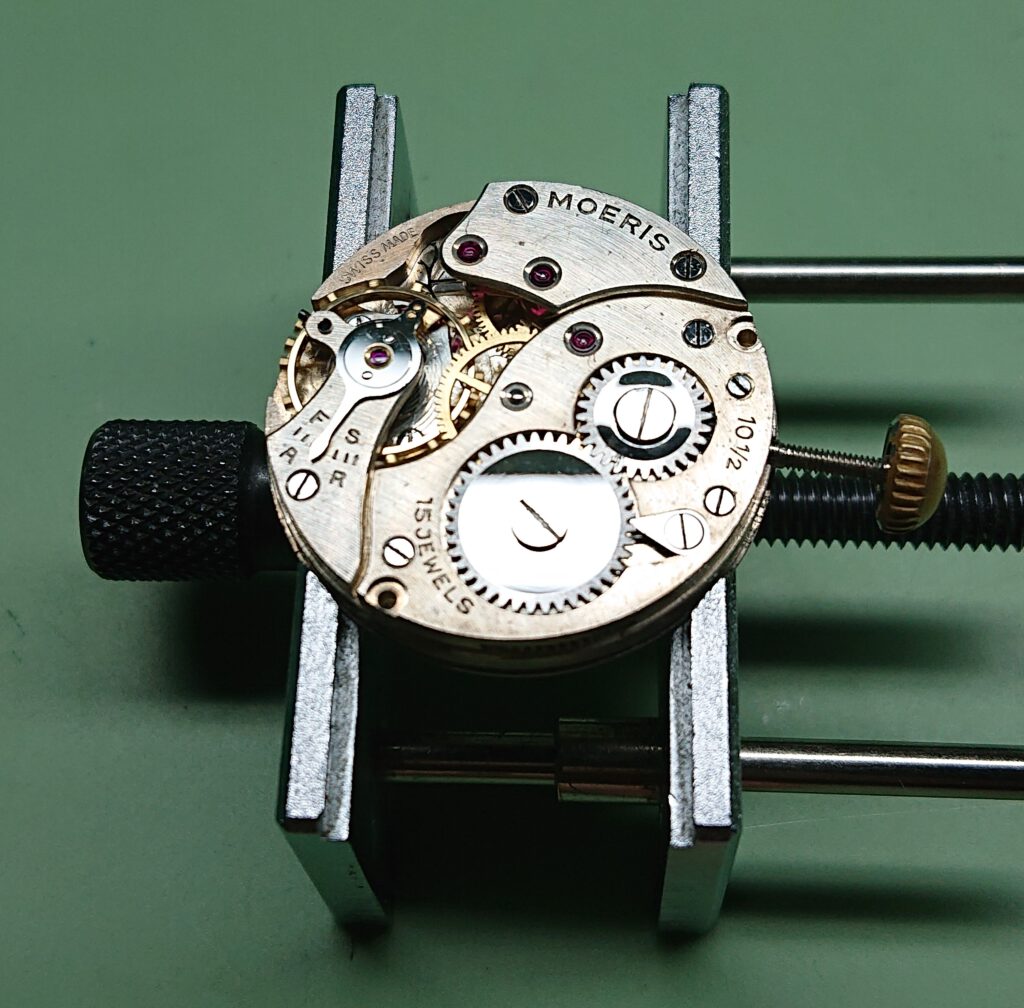 On disassembly of the barrel, the mainspring itself was found to be "set". This is when the mainspring has, in effect, lost much of it's spring. The upshot being a significant reduction in power. It was also an old carbon steel mainspring – these are more prone to breaking. We needed to measure up the mainspring and barrel to source the correct modern equivalent mainspring for this job.
After cleaning the movement is carefully reassembled and oiled. The dial and hands are then refitted, before the complete movement is fitted into the case.
No additional works were carried out to the case, dial and hands, so these were all left in original condition for our client. All that's left is to test the watch before it's ready to go back to its owner.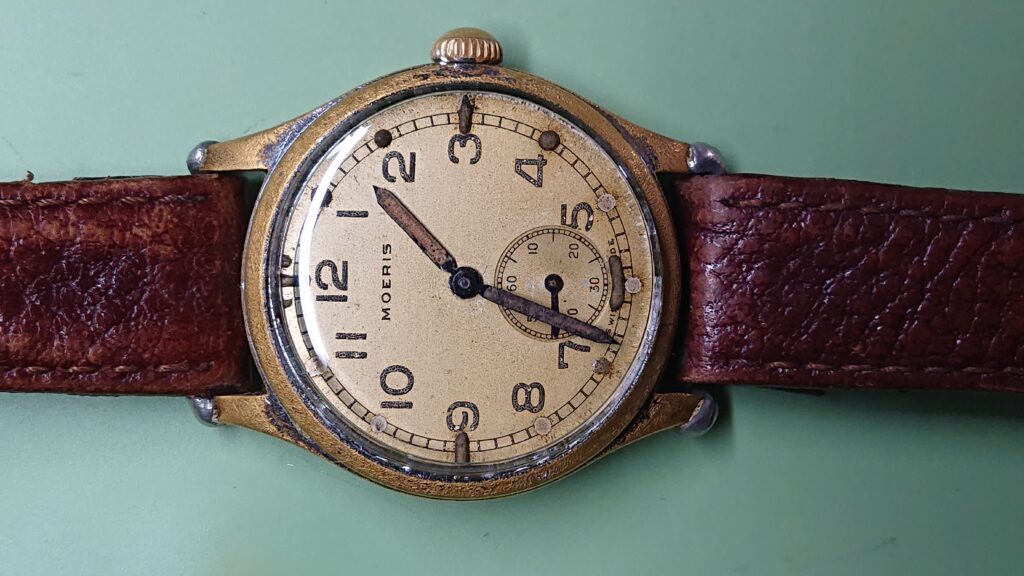 Do you have a vintage watch in need of repair? Get in contact with us to see how we can help. We are able to repair almost any watch and we offer a comprehensive watch repair service. We cater to clients all around the UK thanks to our fully insured freepost watch repairs service. You can also bring watches in to our showrooms based in Lewes and Uckfield, Sussex. As Business Partners of the British Horological Institute and a Feefo Platinum Trusted Service Award accredited business, you can be confident when dealing with us.
Please Contact Us for further information regarding any requirement you may have.
Yours sincerely
David Clark DGA PJDip PJGemDip CertGA
Managing Director
W.E. Clark & Son Limited