One of the most frequent jobs we tackle in the workshop involves replacing the watch glass. But did you know there are various different types, shapes and sizes of watch glass? In this blog post we'll look at the most common types and examine their advantages.
Firstly, it may sound basic, but the glass we fit to a watch depends on what the watch was designed to take. For example, a watch designed for a modern mineral glass would not have an acrylic dome fitted as it likely just wouldn't fit properly. We tend to fit the same type as has been removed, unless of course we note an incorrect type has been fitted previously.
We commonly fit replacement plexi-glass domes (or "UB" glasses as they're also known). These are made of acrylic and were introduced in the 20th century. The standard type of plexi-glass fits into a groove around the edge of a watch bezel. The groove is slightly smaller in diameter than the glass and when fitted using a special tool, the tension holds it in place. The tool we use slightly distorts the glass allowing it to be fitted, before the tool is released and the glass is left held firmly in place.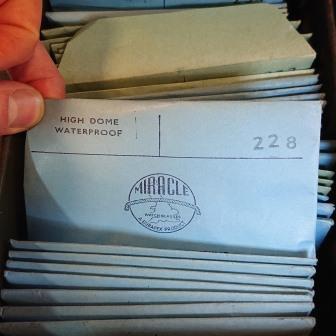 There is a variation on these plexi-glasses which we regularly see on watches which were, when they were made, designed to have a level of water resistancy. This variation adds a tension ring inside the watch glass. This ring effectively holds the glass tighter against the case and so decreases the chances of water getting between the glass and the case.
In modern watches we most commonly find mineral watch glasses. This is a type of glass which is somewhat toughened – especially compared to glasses found on early/pre-20th century watches – though it is not as tough as a sapphire crystal. Mineral glasses can come in a whole range of shapes, sizes and thicknesses. They can also be either flat or domed, just depending on the watch in question. A mineral glass is fitted either into a glass gasket or held in place by special UV glass adhesive. Fitting into a gasket involves using a press type tool, with which we carefully press down onto the glass until it's fitted correctly.
The sapphire crystal is found on most modern mid to high end watches. These glasses are literally made of sapphire, though a man-made version. They are extremely strong and scratch resistant, with sapphire rating 9 on the Mohs scale of hardness. Perhaps unsurprisingly these glasses are significantly more expensive than their mineral crystal counterparts. Certain brands also coat their sapphire crystal glasses with anti-reflective coating – hence you may see a blue tinge if you hold, for example, a modern Breitling at an angle towards a light. Sapphire crystals are held in place usually with a glass gasket, though they may also be bonded in place using UV glass adhesive. 
Do you have a watch in need of a new glass? Contact us to see how we can help. We offer a repairs service both locally via our shops in Lewes and Uckfield, as well as nationally via our fully insured secure postal repairs service. We are experts in the repair of watches and have the skills to take on a huge variety of repairs. We are business partners of the British Horological Institute and we hold a Platinum Trusted Service award from Feefo – testament to the consistent, excellent reviews we receive from our clients. 
Yours sincerely
David Clark DGA PJDip PJGemDip CertGA
Managing Director
W.E. Clark & Son Limited.