Water Damaged Tag Heuer repair
Tag Heuer is a brand we regularly see in our workshop. Tag Heuer in its current form was established in 1985, though the Heuer company has existed since 1860. Watches are produced both with quartz and automatic movements in a variety of different models including the Aquaracer, Kirium, F1 and Carrera.
Our workshop holds a parts account with Tag Heuer so we are able to obtain genuine Tag Heuer parts and repair many different faults with these watches.
This particular Tag Heuer came into our workshop in poor condition. It was water damaged, as can clearly be seen by the white ring around the inside of the glass. The dial itself was also water damaged, as were the hands. On inspecting the movement, we found water had damaged this too.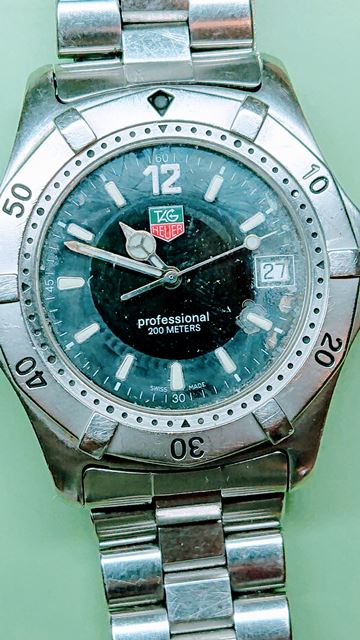 Water damaged Tag Heuer
Other issues included scratching all over the case and bracelet, missing lume from the marker on the bezel, and the black infill missing from the number "1" of "10" on the bezel.
To get this watch working again we needed to completely replace the movement. This involves swapping out the entire movement in a like-for-like exchange. We were able to order the model specific dial, so this was changed as the existing dial was too badly damaged. After speaking to our client, we re-used the original hands, though cleaned these up as best we could.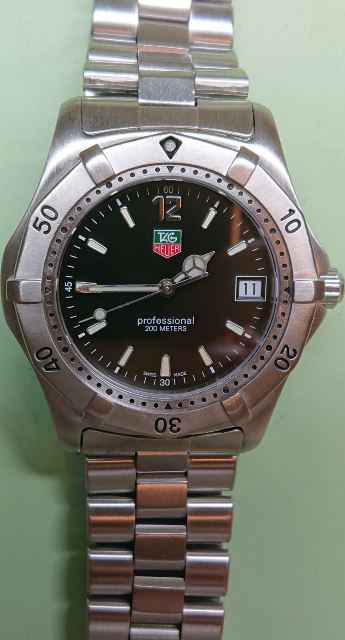 Fully restored Tag Heuer Watch
The case and bracelet were given a thorough clean before then being refinished. This massively improved the appearance of the watch. We could then carefully reapply the black infill to the bezel, as well as the luminous marker.
Now we just needed to reassemble the watch – fitting a brand-new set of seals and making sure it passes as water resistant.
As a Tag Heuer parts account holder we are able to obtain any case parts which may be required. Besides the repairs needed to this watch, other common repairs include bezel replacement (most often necessary on F1 models where the numbers can fade easily), crown replacement and fitting new pushers to chronograph models. We are able to repair very water damaged watches like this one – obtaining anything which needs to be replaced including the dial, hands, seals and of course the movement.
Do you have a Tag Heuer watch in need of repair? Get in contact with us to see how we can help. We are able to repair almost any Tag Heuer watch and with our Tag Heuer parts access we offer a comprehensive service. We cater to clients all around the UK thanks to our fully insured freepost watch repairs service. As a Feefo Platinum Trusted Service Award accredited business, you can be confident when dealing with us.
Please Contact Us for further information regarding any requirement you may have.
Yours sincerely
David Clark DGA PJDip PJGemDip CertGA
Managing Director
W.E. Clark & Son Limited