Sometimes watches we work on undergo rather dramatic transformations. One instance where this tends to occur is when dealing with water damage. Water damage occurs when, as the name would suggest, water enters the watch. Sensitive watch movements do not get on well with any moisture – this is one of the reasons why it's important to have your watch regularly checked for water resistance. Water resistance is not a permanent characteristic. Watches rely on a series of seals and for the case to be in excellent condition. Even the smallest breach or a build-up of dirt can compromise the water resistance.
In this instance we received a rather sad looking Tag Heuer Formula 1. Water had entered the case staining the hands, inside of the glass and damaging the movement. We started by disassembling the watch, removing the movement, dial and hands before fully stripping down the case.
On inspection of the movement, it was damaged and as this model uses a non-serviceable movement made by ETA – one of the big names in watch movement production – a complete movement replacement was necessary. To deal with the damaged hands we ordered a complete new set. We have a parts account with Tag Heuer, so we are able to source almost any part we need to repair Tag Heuer watches.
All case parts were ultrasonically cleaned and the glass was carefully cleaned by hand to remove the staining. The case was then reassembled using a complete set of brand-new seals. The dial was also carefully cleaned as best possible.
Now we simply assemble everything. The dial is fitted to the new movement, before the new set of hands are fitted. When fitting the hands, we use a hand press tool made by Horotec. These tools are a great way to ensure the hands are fitted completely parallel with the dial (and each other), and that the spacing is appropriate and uniform. After these are fitted, we fit this back into the case.
Finally, the complete watch is pressure tested to ensure it passes to the full 200m water resistance using our Sigma SM-8850 pressure testing machine. This is able to test watches rated up to 300m water resistant. It tests using air pressure, so it is connected to a compressor which in turn is fitted with a booster as it requires plenty of pressure to reach 100m+. By using air pressure, we are able to test the watch complete, so with or without the movement inside.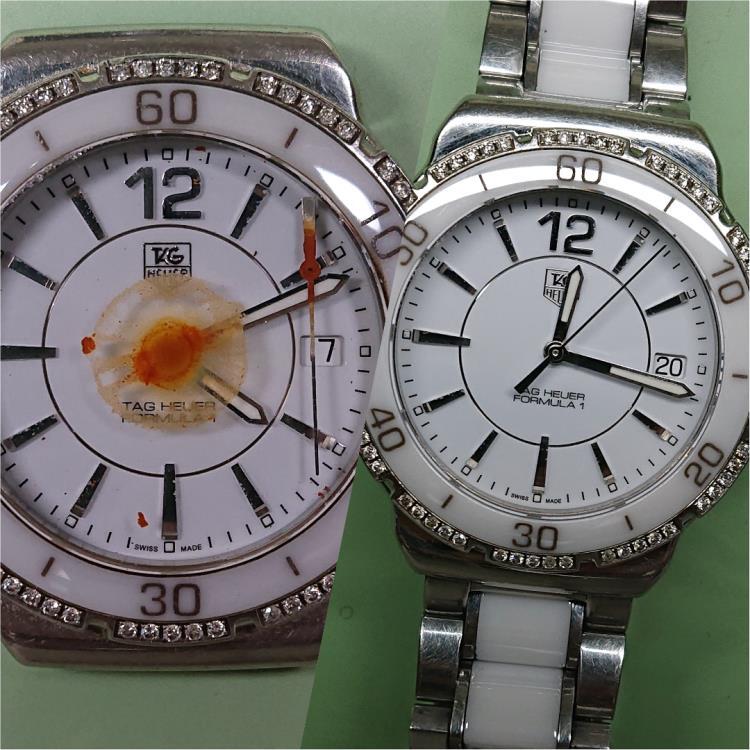 Do you have a Tag Heuer watch in need of repair? Get in contact with us to see how we can help. We are able to repair almost any Tag Heuer watch and with our Tag Heuer parts access we offer a comprehensive service. We cater to clients all around the UK thanks to our fully insured freepost watch repairs service. As a Feefo Platinum Trusted Service Award accredited business, you can be confident when dealing with us.
We look forward to hearing from you soon
Yours sincerely
David Clark PJDip PJGemDip CertGA
Managing Director