Like anything with moving parts, a mechanical watch needs periodic servicing in order to allow it to continue working properly for years to come. Even if you've had a watch for many years which has never seen a watchmaker, but it's still ticking, this does not mean everything is fine and it does not require any attention.
It's important to note there's a big difference between a watch which is working and a watch which is actually keeping time. If a watch has gone decades without seeing a watchmaker, yet it is still working, this more down to the fantastic design of the watch movement rather than a sign that your watch is in good condition. It's worth remembering there are many other elements to a watch movement on top of those involved purely in timekeeping. The winding mechanism for example. If you have an automatic watch, this is an area we see showing wear on watches which have been well maintained, let alone on watches which have been somewhat neglected.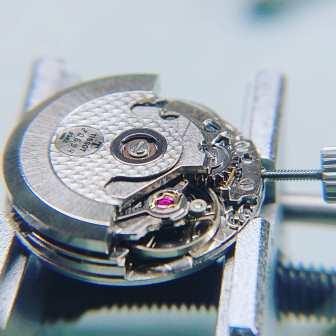 Watches rely on good quality oils and greases to allow them to run efficiently. These lubricants decrease friction to keep the mechanism running optimally. Over the years, oils and greases start to degrade and dry up. Old oil and grease then begin to actually increase friction. This in turn leads to wear. If you have a particularly rare or old watch, this may cause issues as worn parts may not be freely available. This could lead to parts needing to be made, exponentially increasing the cost of the repair. Even if your watch is relatively modern, there will undoubtedly be a much higher repair bill if many components are worn and need replacing. 
We advise our customers to have their watches serviced every 3-5 years, depending on the model. There are of course some exceptions, though this is a general rule. We have encountered some surprise from clients at the need to maintain a watch regularly. The analogy I like to make is with servicing your car. Imagine your watch movement is like a tiny engine. If you wear it daily, it's ticking away 24 hours a day, 7 days a week, 365 days a year. It's a truly remarkable thing. Imagine running your car non-stop for such a length of time! The need for maintenance seems a little less surprising thinking about it in such terms. 
When you have a top-quality timepiece from the likes of Rolex, Omega or Tag Heuer, it makes sense to look after it. By ensuring your watch is kept regularly serviced it will continue to provide you with years and years of reliable service and may then become an heirloom to pass on to the next generation.
Do you have a watch in need of servicing? Contact us to see how we can help. We offer a repairs service both locally via our shops in Lewes and Uckfield, as well as nationally via our fully insured secure postal repairs service. We are experts in the repair of watches and have the skills to take on a huge variety of repairs. We are business partners of the British Horological Institute and we hold a Platinum Trusted Service award from Feefo – testament to the consistent, excellent reviews we receive from our clients. 
Yours sincerely
David Clark DGA PJDip PJGemDip CertGA
Managing Director
W.E. Clark & Son Limited.