Continuing on from part one, in this blog post we'll look at some more of the tools and equipment we use on a day-to-day basis.
Watchmaking tools and equipment come in all different shapes and sizes to suit the huge variety of jobs a watchmaker's workshop will undertake. Two types of tool we use in almost every job are watchmaker's screwdrivers and tweezers.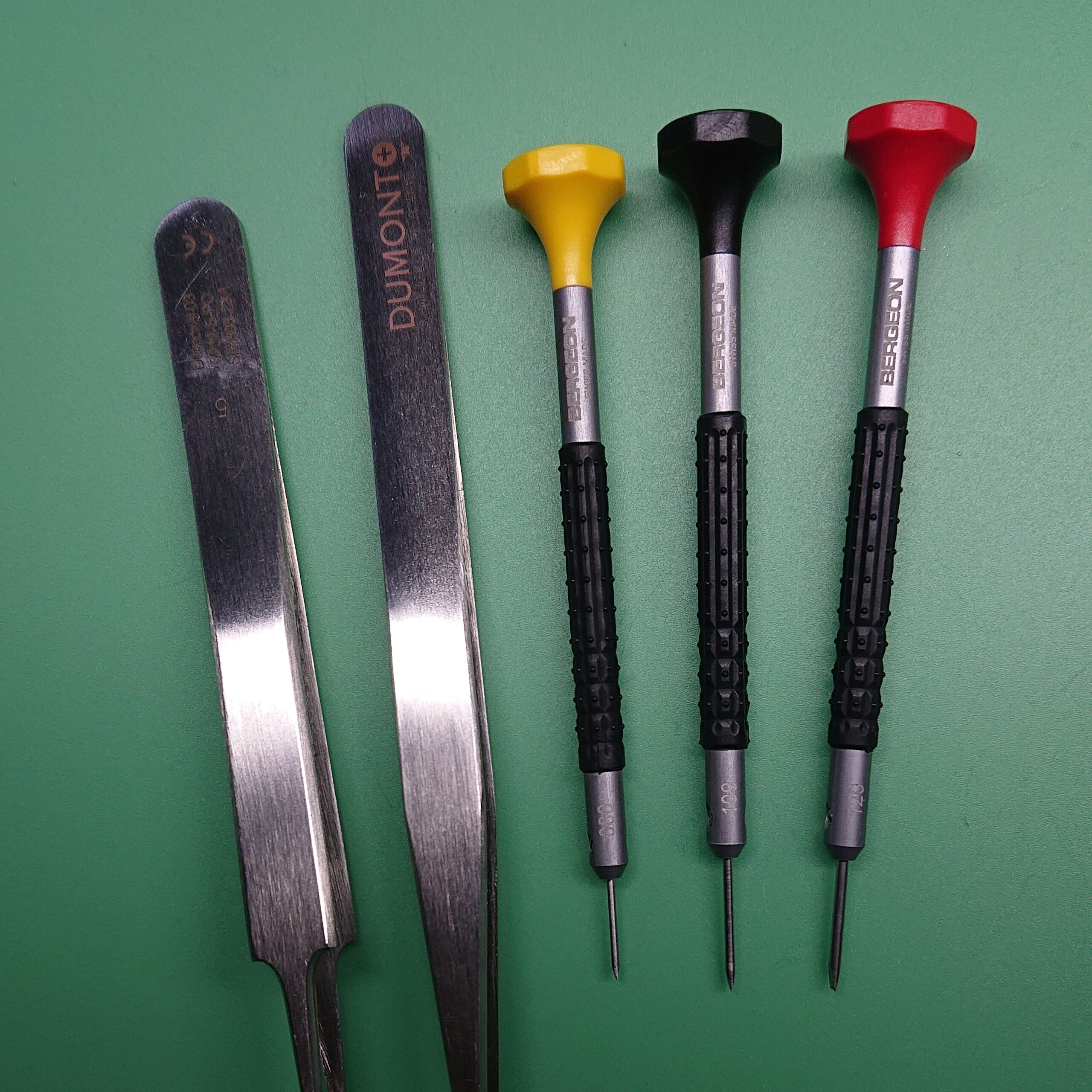 Good screwdrivers and tweezers are of paramount importance. When used with the correct technique and maintenance these are tools which will last for many years. There are a number of excellent brands producing quality products out there – Our preference is to use Bergeon screwdrivers and Dumont tweezers. The set of screwdrivers we use on a day-to-day basis consists of ten individual anti-magnetic screwdrivers on a rotating stand. The sizes range from 0.50mm up to 3mm – this size range accommodates almost any size watch screw. The blades are also anti-magnetic and dressed using a sharpening stone though they can also be replaced as necessary. Our go-to tweezers are Dumont anti-magnetic "number one" – This particular style has fine strong tips. Of course many different tweezers types and styles are needed for different purposes – from epoxy coated to brass to Delrin tipped.
Having excellent screwdrivers and tweezers is all well and good, but you need to get into the watch first! That's where our range of case opening and closing tools comes in.
Some watches have case backs which snap or press on – these can be removed with specially shaped case back removers, or, our preference is for the traditional watchmaker's case knife. This is rather like a pen knife with two blades – the shorter of which is used to open snap on case backs.
Other watches have screw-on case backs. The case back and case are threaded, so the back screws into the case. In order to remove these backs we have a number of specialist tools. The smallest option we have is a handheld remover called a Jaxa wrench. We also have a bench top tool where the watch is held securely upside down between two plastic dies – the case back is then unscrewed by twisting the correct opening die via a large wheel. This tool is great as we can fit various different dies specific to all the different watch brands. For example Rolex, Breitling and Omega all use completely different dies.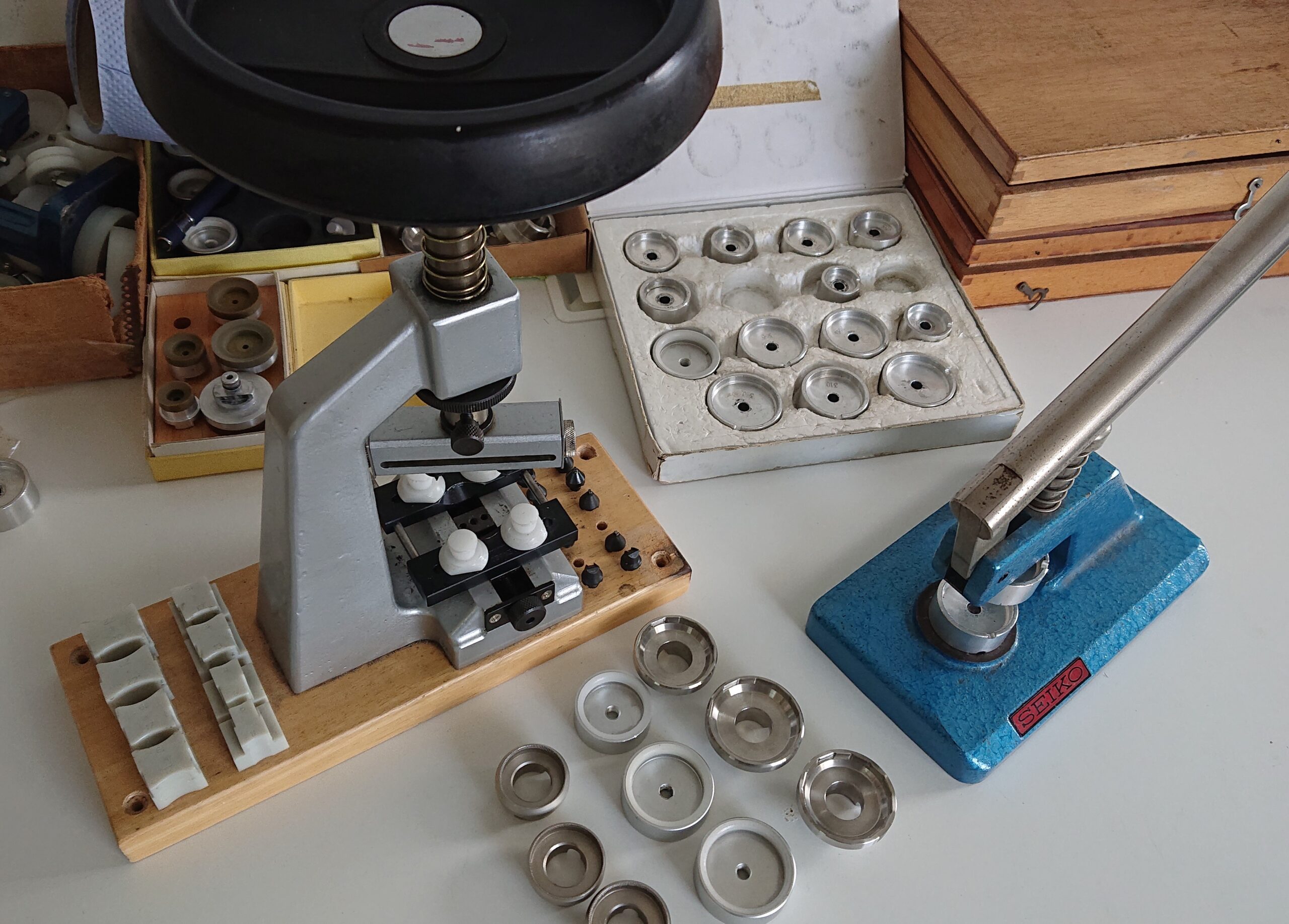 When it comes to refitting the case back, in the instance of screw on backs it's essentially the opposite of removal. Some snap-on case backs may prove stubborn and not snap into place by finger strength alone, so having a good mechanical press is useful. Again, we have a selection of different types. Some of these serve a double function and are also used as a glass press (for fitting different styles of watch crystal glasses). It's extremely important to make sure the correct size and shape of die is used – hence we have a wide selection. If you don't use the correct size, you risk misshaping the case back or damaging the case or glass.
If you have a watch in need of repair – do get in contact with us. We are watch repair specialists with a fully insured freepost watch repairs service. We offer repairs to clients all around the UK and we are experts in the repair of modern and vintage watches. As holders of a Feefo Platinum Trusted Service Award and business partners of the British Horological Institute, you can be confident in the service we provide.
Yours sincerely,
David Clark PJDip PJGemDip CertGA
Managing Director
W.E. Clark & Son Ltd.