A recent restoration project for one of our clients involved fully servicing and repairing a vintage Omega Seamaster.
Omega as a brand have a huge, interesting history, perhaps beyond the scope of this blog post. Suffice to say they are one of the most prominent watch companies in the world, with numerous inventions, innovations and awards to their name. Their iconic Speedmaster was the first watch worn on the moon and amongst other popular models including the De Ville and Constellation, they make the very popular Seamaster.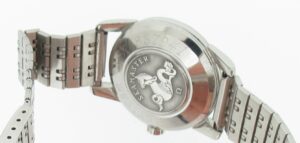 The Omega Seamaster was introduced by Omega in 1948 and was stylistically at least somewhat based on designs made for the Royal Navy towards the end of the war. Originally one of the key features of the watch was a rubber o-ring gasket designed to provide water resistance – a feature which at the time was not as common as it is now.
In 1995 Omega partnered with the James Bond franchise. This further cemented the Seamaster as an iconic line of watches, with numerous "Bond" models produced which are still hugely desirable to this day.
The Omega Seamaster belonging to our client is a model dating from the early 60s. It has a stainless steel, three part case (i.e. a case back, middle and bezel) and a great 'crosshair' dial. The movement is an Omega 501 – a great quality, vintage automatic movement.
On arrival in the workshop this watch was barely ticking. Upon inspection there was a lot of dried up oil and debris in the movement, so a full service and a new mainspring was required. During a full service we completely disassemble the movement and run it through our specialist watch movement cleaning machine. We also run the case and bracelet through a separate ultrasonic cleaner. After cleaning, the movement is carefully reassembled and oiled, before being adjusted and tested. The entire watch is then tested on our rotating testing machine to confirm the automatic winding mechanism is operating correctly.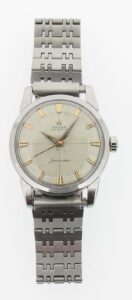 Do you have an Omega Seamaster in need of repair? From vintage to modern pieces, we are able to help. We remain open during lockdown and you can get your watch to us by using our fully insured, freepost postal repairs service. Contact us to find out more.