One of the brands we regularly see in our workshop is Tag Heuer. Tag Heuer in its current iteration was established in 1985, though the Heuer company has existed since 1860. Watches are produced both with quartz and automatic movements in a variety of different models including the Aquaracer, Kirium, F1, Link, 2000 Series and Carrera.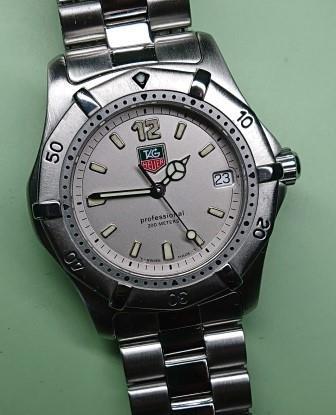 Tag Heuer Professional Watch
As experienced watchmakers we are able to repair almost any watch – both modern and vintage. As we hold a parts account with Tag Heuer we are able to obtain genuine Tag Heuer parts to repair many different faults with these watches.
One fault we see is problems with the crown. It may be that the crown no longer screws down, and so this compromises the water resistance. It may be that the client doesn't realise the crown is not screwed down, and goes into water. This then leads to the movement being water damaged.
In the instance of water damage – we will most likely be ordering a complete replacement movement from Tag Heuer. This involves swapping out the entire movement in a like-for-like exchange. This may sound rather drastic, but in the case of severe water damage, it can be the only way to achieve a reliable repair and fully working timepiece.
To take care of problems with the crown and the part it screws into – the case tube – we are able to order these parts and fit them using the correct brand specific tooling. Using the correct tools is important to avoid damage to the case. Take our Tag Heuer case tube remover as an example – this tool is designed specifically for Tag Heuer watch cases. It screws down into the old case tube and allows us to extract it in a straightforward manner.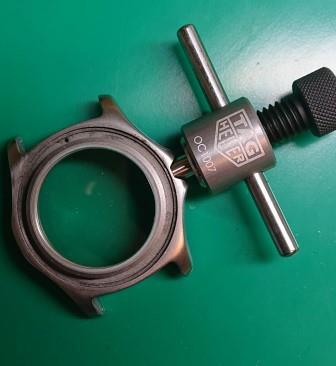 Tag Heuer Case-tube Removal Tool
With the correct tooling and our Tag Heuer parts account, we are able to obtain any case parts which may be required. Other repairs we see include bezel replacement (most often necessary on F1 models where the numbers can fade easily) and changing a complete set of seals to re-establish water resistance on models used in water such as the Aquaracer. We can also replace dials, hands, pushers and many other parts.
Suffice to say, if you have a Tag Heuer in need of repair – do get in touch! We offer a comprehensive range of watch repairs. We cater to clients all around the UK thanks to our fully insured freepost watch repairs service, as well as to walk in clients through our showrooms in Lewes and Uckfield, Sussex.  As a Feefo Platinum Trusted Service Award accredited business, you can be confident when dealing with us. We are also Business Partners of the British Horological Institute – the standard bearers for quality watchmaking in the UK.
Yours sincerely
David Clark DGA PJDip PJGemDip CertGA
Managing Director
W.E. Clark & Son Limited